Garmin 520 Plus
Garmin
$499.00
With Edge 520 Plus, you can train smarter and discover new routes. This cycling computer features advanced navigation and challenges built right in, not to mention a bright colour screen, preloaded Strava Live Segments and the Garmin Cycle Map with turn-by-turn directions. Whether you're exploring new routes or pushing your limits at race time, Edge 520 Plus has exactly what you need.
Advanced Navigation with Garmin Cycle Map
Edge 520 Plus is preloaded with the Garmin Cycle Map and includes turn-by-turn navigation and navigation alerts that notify you of upcoming turns. And, of course, it's smart enough to guide you back to the route — or back to start — if you deviate from it or decide to head home early.
There's no need to reach for the phone or worry about your fellow riders when they pull ahead or fall behind. Rider-to-rider messaging (with a compatible smartphone) lets you send prewritten notes from your Edge 520 Plus bike computer to theirs. Let your friends know if you'll catch up in a few minutes or if they should go on without you. If you have a flat tire or need assistance, you can send a message to your fellow riders who are paired with GroupTrack — so they can find you.
Edge 520 Plus is compatible with ANT+® technology sensors, including speed, cadence and heart rate. For even more performance data, 520 Plus is also compatible with ANT+ power meters, including Vector 3 (sold separately). Our unique pedal-based power meter measures total power, left/right balance and cadence. You can even record cycling dynamics to get a better look at your form, including where your power is being applied on the pedal and throughout the pedal stroke.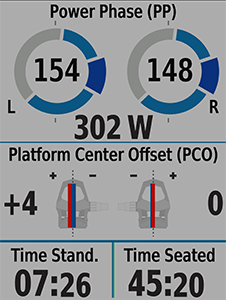 With the addition of a heart rate strap (sold separately), you gain access to a variety of physiological data. See your cycling-specific VO2 max along with a recovery advisor, which analyses your data and tells you how long you should wait before attempting another hard ride. This connected system of sensors, accessories, cycling computer and post-ride analysis with our Garmin Connect™ online community allows you to keep track of how your body performs from ride to ride.
SKU: 10006